Giroux Realty Advisers, LLC has been selling house lots and homes throughout the greater Fall River Area since 1938.
This division is directed by Donald Harrison. Donald and his associates, have had years of experience assisting home buyers.
Home Buyers:
Looking for the perfect home? Sign up and receive daily updates of all the new listings that meet your criteria. It's Easy.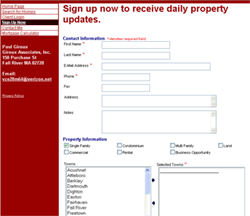 1. Click here and fill out the requested information. Every day you will receive new listings that match your search criteria.
2. Call us with details of the listings that you are interested in and we will do the rest.
Simple! We have over 60 years experience in the real estate industry.
Home Sellers:
Selling your home? Get a FREE Competitive Market Analysis (CMA)

The correct selling price of a home is the highest price that the market will bear.
Using the information you submit to us in the form below, we will conduct a thorough comparative market analysis by searching a database of all homes listed or sold in your neighborhood.
Using this process, we will establish a realistic listing price and increase the percentage of qualified buyers who look at your property.
Call for an appointment at (774) 273-4349.